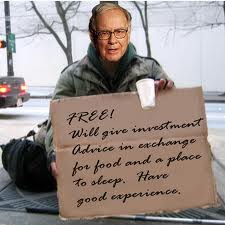 A while back I was reading a New York Times article with George Foreman about how he returned to the boxing ring in the late 1980's. The reason was not necessarily because he missed the ring but because he was flat broke. Foreman had managed to squander $5 million and fighting was the one way he knew he could gain his wealth back again.
Forman is one of the rare occurrences where millionaires can lose everything and still manage to get back on top again. During Foreman's return to the ring he made millions in earnings and then went on to because a successful entrepreneur.
There was a study by the St Louis Federal Reserve that stated most people who file for bankruptcy are blue-collar, lower to middle class individuals. Most of them have huge amounts of debt and then they get blindsided by an unexpected expense. The problem is it's not always just the lower-middle class that find themselves in trouble.
In 1893 Buffalo Bill had amassed $30 Million is todays dollars. They can a financial panic in 1907 and it wiped him out. He was so broke that in 1917 when he died there wasn't even enough money left to pay for a proper burial.
Michael Jackson, who was known for turning out top hits with Jackson 5 and on his own had to give away a stake in a songbook of Beatles hits to get a loan of $270 Million or he would have ended up bankrupt.
So the big question is how do these well-to-do people find themselves broke.
I think the number one reason why they lose their money is because they never learned the basics in finance.   They see all of this money coming in and don't understand that they need to be diversifying their income to savings, retirement, investing accounts and then finally the discretionary income to spend.
More likely than not the individual probably did not grow up wealthy and then when his money started to come they had no idea how to handle it.  They tend to make poor decisions because they want to buy everything they never had growing up.
In the end the only way that you are really going to make sure that you don;t end up broke is if you have a solid financial plan in place.  For those who are not used to wealth surrounding yourself with smart people such as lawyers and financial advisors is the best option.
The following two tabs change content below.
Sean Bryant
Sean Bryant created OneSmartDollar.com in 2011 to help pass along his knowledge of finance and economics to others. After graduating from the University of Iowa with a degree in economics he worked as a construction superintendent before jumping into the world of finance. Sean has worked on the trade desk for a commodities brokerage firm, he was a project manager for an investment research company and was a CDO analyst at a big bank. That being said he brings a good understanding of the finance field to the One Smart Dollar community. When not working Sean and he wife are avid world travelers. He enjoys spending time with his daughter Colette and dog Charlie.
Latest posts by Sean Bryant (see all)