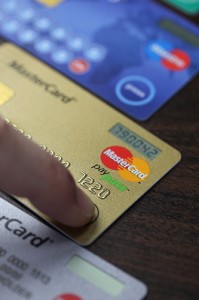 When a credit card company first issues you a credit card they give you a credit limit.  This credit limit is the maximum amount that you can charge to your account at any given period of time.  If you are young you might not have a very extensive credit history which means you might be given a lower credit limit.
How is a Credit Limit Determined?
Credit card companies will usually take several different factors into consideration when determining your limit.  The biggest factor is your credit score.  Your credit score is a number that tells creditors how reliable of a borrower you have been in the past and helps to predict your ability to repay future debts.  Other factors that credit card companies look at are your income and other debts that you currently have such as student loans, home loans and more.  Lastly, they will also look at the amount of credit that you have available to you from other credit card companies and retail stores (Target, Macy's, etc)
Just because you have a certain credit limit doesn't mean this can't change in the future.  If you prove yourself to be a responsible borrower and you are consistently on time with your payments you might find that your credit card company might automatically raise your limit.  You can also ask them for a raise and they might be more than happy to oblige.
On the contrary if you have been late paying your bills, are starting to charge more than normal they might decide to reduce your available limit.  If you happen to go over over your limit you might even get charged a fee.  These fees have become heavily regulated over the past few years since the Credit Card Accountability Responsibility and Discloser (CARD) Act.
If you have a lower credit rating than you might want to start by going over tips to improve your credit score.  This will be the first and most important step to being able to get a higher credit limit in the future.
The following two tabs change content below.
Sean Bryant
Sean Bryant created OneSmartDollar.com in 2011 to help pass along his knowledge of finance and economics to others. After graduating from the University of Iowa with a degree in economics he worked as a construction superintendent before jumping into the world of finance. Sean has worked on the trade desk for a commodities brokerage firm, he was a project manager for an investment research company and was a CDO analyst at a big bank. That being said he brings a good understanding of the finance field to the One Smart Dollar community. When not working Sean and his wife are avid world travelers. He enjoys spending time with his two kids and dog Charlie.
Latest posts by Sean Bryant (see all)