Technology has made some amazing advancements since I was a kid in the 1980's and 90's. With the increased popularity of both smart phones and tablets, there are more and more learning options available for our children.
Last week I talked about the importance of teaching our children about money from an early age. It will help to develop them into more responsible individuals. The access to an endless amount of educational apps for kids only helps to make our job as parents easier. These apps not only teach our kids the basic concepts, but they also make it fun in the process.
I have gone through and reviewed some of the best paid and free learning apps for kids. These are all available for either iPhone, Andoid, iPod or iPad devices.
5 Paid & Free Educational Apps for Kids

Kids Money
Kids Money is a free app for helping kids figure out when they will be able to afford a certain item on their wish list. As an example, let's say that your child has been wanting to get the new Xbox One game system.
How the Kids Money app works is that they will be able to enter the price of the Xbox system and how much they are planning to save each week. The app will then tell them the expected date that they will be able to afford the purchase. If they have any other purchases then it will adjust the purchase date accordingly.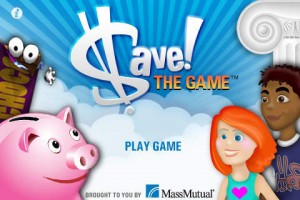 Save! The Game
MassMutual has created Save! The Game, a free game for kids that helps them to understand the difference between wants and needs. This is something that is tough for even us adults to understand sometimes. The object of the game is for kids to try and collect as much money as they can and get it to the bank. The only problem is that there are a bunch of iWannas roaming around. If you or the money collide with these iWannas they will take all the cash.

Virtual Piggy Bank
It will cost you $0.99 to download, but the Virtual Piggy bank app is a great way to teach your children about the different U.S. coins. They will learn the names and how to count with them.  Virtual Piggy Bank will teach your child what two quarters, four nickles, two dimes and one penny all add up to.
Saving Spree
Savings Spree will set you back $5.99, but it is the winner of a Parents Choice gold award. It will teach your children different money lessons including how different spending decisions you make can positively or negatively affect you. Saving Spree will also show your kids how they can save their money to buy the things they want. It will also show them how they can be good spenders by making more frugal buying choices.

Bank of Mom
Bank of Mom helps parents keep track of their child's virtual bank account and teach them about money. You can sit down with your kids and go over their transactions, balances and any interest they have earned. This app will help your kids be more confident when they open up their first bank account. Bank of Mom will cost you $1.99.
Final Thought
There are quite a few paid and free educational apps for kids that are available, however, these are just some of my favorites. By using these you will be able to give your kids a head start on on their financial education.
The following two tabs change content below.
Sean Bryant
Sean Bryant created OneSmartDollar.com in 2011 to help pass along his knowledge of finance and economics to others. After graduating from the University of Iowa with a degree in economics he worked as a construction superintendent before jumping into the world of finance. Sean has worked on the trade desk for a commodities brokerage firm, he was a project manager for an investment research company and was a CDO analyst at a big bank. That being said he brings a good understanding of the finance field to the One Smart Dollar community. When not working Sean and he wife are avid world travelers. He enjoys spending time with his daughter Colette and dog Charlie.
Latest posts by Sean Bryant (see all)