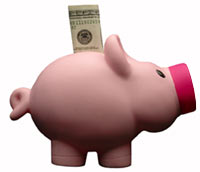 I've been a long time customer with my bank, ever since they bought out my last bank over 10 years ago. After the purchase, my new bank almost immediately began enacting various fees and defining new services. I'm not talking about overdraft fees, NSF fees, or what I consider "no-brainer" fees. These are fees you get even if you're a good little customer. The fees have never been enough to make me go through the headache of switching to a new bank, but a few years ago I had to take them up on their offer of a totally free checking account.
I'm not the kind of person to let checks bounce or overdraw my ATM card, and I use direct deposit. I even keep the minimum balances in good order. They were still able to sneak in a statement fee though, and nowadays that's not just for printing paper. The bank started charging $1.00 per month, then $2.00 per month, and now $4.00 per month for printing scanned copies of my canceled checks at the end of my paper statements and then on electronic statements. Years ago, this was a free and automatic service, and apparently I was grandfathered in when they started charging. About two years ago, they introduced an option whereby they would not present you with any check copies on your statement. This was free. Of course, the option you chose for checking (free checking) had nothing to do with how you wanted canceled checks presented.

I understand from friends that my bank isn't the only one to do this. Many of the big and even not-so-big banks do this. I've found that credit unions are less fickle regarding these incidental fees, though I can't even count how many insurance offers on behalf of my CU I've gotten in the mail between the two credit unions I belong to.
There are some simple banks still out there. I know of two in downtown Baltimore, MD that are relatively simple. Kopernik Bank (www.kopernikbank.com) is one such bank, but don't expect ATM cards, online account access, or weekend hours. They have low minimum balances and their savings account rate of 0.75% is very high compared to many players. The other bank does not even have a website.
You're going to have to research and ask the hard questions of all the banks you check out. Be sure to keep copies of your agreements and other forms when signing up, and be sure you understand what terms the bank can change over time and what their responsibilities are for telling you. I've found www.depositaccounts.com to be a very useful resource. They pull together FDIC information, bank history reports from various government filings, and in some cases information from BankRate.com to provide a clear picture of each bank in your state. They also provide easy to review information on checking accounts, much like bankrate.com.
Changing banks can be a lot of work, so you need to decide if the savings and any extra driving to a branch are worth it.
Photo Credit
The following two tabs change content below.