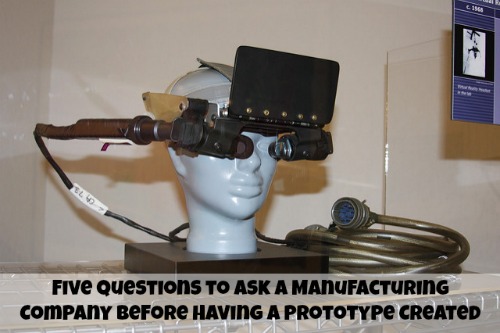 New products come on the market each and every day. The new products start as ideas in someone's mind, are made into prototypes, and then are manufactured in mass quantities once the design has been perfected. If you have come up with a unique product that you think everyone could use or would buy, you need to have a prototype made for it. The following guide walks you through a few questions you need to ask any manufacturing plant before agreeing to use them to manufacture the prototype for you.
Ask if They Use a Nondisclosure Agreement
The first thing you need to do is make sure that the company has a non-disclosure agreement that they use with inventors. The agreement will ensure that your product design cannot be given to or used by anyone else. When you are an inventor, this agreement is essential and should detail exact specifics about how your product design can and cannot be used.
Ask How Much the Company Charges for the Manufacturing of a Prototype
When it comes to manufacturing, you may consider Mexico manufacturing companies to help make the transition and work with a leading administrative compliance management service provider like NAPS. Companies in both North and South America can use manufacturing in Mexico to keep their processes closer to home while avoiding transportation costs from overseas without sacrificing any quality along the way.
Ask What Materials Are Available for the Prototype
You need to consider what the product will be used for to determine what material should be used to create it. You want to be sure that you create a product that will durable and long lasting. Some items need to be constructed from plastic while others benefit from a metal construction. The company will be able to give you advice about which option may be best for the specific item that you are trying to create.
Ask What the Process for Adjusts to the Design Is
After the prototype has been made, you will more than likely see adjustments that will need to be made. Some companies are able to easily make any adjustments that you need, while others require you to have an entirely new prototype made because they are not able to make adjustments to the specific molds that they used to create the prototype for you. You want to be sure to work with a company that can easily make adjustments to keep the overall cost for manufacturing as low as possible.
Ask What the Cost to Mass Produce the Item Would Be
You also need to find out what the cost to mass produce the product would be. There are many manufacturers that will give you a discount for producing a product in mass quantities because it allows their workers to avoid having to constantly change out molds or materials for a few days at a time, which saves them money in the long run. Before having the item mass produced, you may need to get a patent for it to make sure that no one will be able to copy your design and mass produce the same product.
When having a prototype created, it is important to take your time. You want to be sure to work with a company that is able to create the item that you want created exactly how you want it created. Keep an open line of communication so that you and the manufacturer can ask questions of one another when needed to ensure the prototype is created perfectly.
The following two tabs change content below.