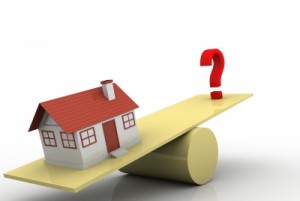 If the home you're living in is harder to afford than when you bought it (either because of a job-loss, lower salary, greater expenses, etc.), you might be considering downsizing. Downsizing seems to be one of those common pieces of advice you hear when you're trying to save money.
It makes sense. Your house is big, and a smaller one should be cheaper. A smaller mortgage means a lower monthly payment, which would certainly help. As well, your utilities would be less, your taxes should be less, and in theory you'd have less things to fix.
But do these benefits really outweigh the costs?
The Costs Of Downsizing
Moving is expensive. Realtor fees, closing costs, moving costs, and taxes can easily add up to tens of thousands of dollars.
As for utilities, the savings here are rarely as dramatic as you may have hoped. After all, the same number of people are living in the home, so that means the same amount of water. Sure your heating and air-conditioning bill might be a bit less, but if that extra $20 a month is keeping you afloat, you've got much more serious problems.
The fact is, spending thousands and thousands of dollars to buy a smaller home, plus the hassle and time of moving, is probably not going to help as much as you wanted.
Alternative To Downsizing
If you're struggling with your monthly payments, it might be in your best interest to refinance your mortgage. You'll pay some closing costs, but they won't be nearly as high as selling your home.
5 year variable mortgage rates are at an almost all-time low. A lower interest rate means you'll be able to put more towards your principle or lower your monthly payments.
If you're REALLY struggling, it may be helpful to extend the amortization period of your mortgage. If you have 15 years left on your current mortgage, check the math on extending that to 20 or 25 years. The difference will likely be hundreds of dollars a month.
To see current rates and options, check out http://mortgagerates.ca.
Other Options
It's easy to get caught up in your assumptions. We all have assumptions that guide our decisions. Things like "I need a vacation every year", "I need a data plan on my phone", and "I need a new car because it's safe and reliable".
If you're struggling financially, now is a great time to examine some of the other choices you've made and see what else you can change to get back on track.
OneSmartDollar.com has written before about becoming a landlord to create passive income. If you have a basement that could be converted into an apartment, you could probably solve all of your mortgage payment problems with this alone.
If you have car payments, consider selling your car and buying something cheap and used that doesn't need payments. The extra monthly cash-flow could also help.
Get creative and you'll be able to solve this without losing your home.
The following two tabs change content below.
Sean Bryant
Sean Bryant created OneSmartDollar.com in 2011 to help pass along his knowledge of finance and economics to others. After graduating from the University of Iowa with a degree in economics he worked as a construction superintendent before jumping into the world of finance. Sean has worked on the trade desk for a commodities brokerage firm, he was a project manager for an investment research company and was a CDO analyst at a big bank. That being said he brings a good understanding of the finance field to the One Smart Dollar community. When not working Sean and he wife are avid world travelers. He enjoys spending time with his daughter Colette and dog Charlie.
Latest posts by Sean Bryant (see all)