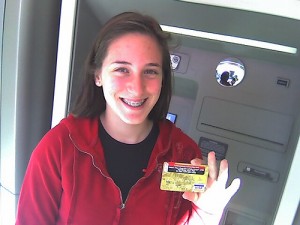 This article comes from my friend Jason Steele, a credit card expert and a contributor to Smart Balance Transfers and many other personal finance web sites.
College students have always been a hot market for credit card issuers to target. They spend a lot and often go into debt, but they can be counted on to be loyal, high income customers for years into the future. And while the CARD Act of 2009 now prevents banks from conducting many of the on-campus marketing campaigns they used to, card issuers are still trying to sign up as many college students as possible. These days, nearly every bank has a card targeted to college students, but do these products make sense?
What is a student card?
Simply put, a student card is any product with the word student in the title. These cards generally are aimed towards people with fair credit and have features that some bank executive figured that students would like. So you are less likely to find perks like free access to airport business lounges and more likely to see rewards for purchases at restaurants and entertainment retailers.
Do you really need it?
When you are in college, you may live in student housing, take out student loans, and get great student discounts around town, but you don't carry a "student smart phone" have a "student bank account." In the same way, there are really few advantages of signing up for a student credit card over any other. Students, like all other credit card users, should choose the best card for their individual needs based on its features and benefits, not how it is marketed.
3 questionable "student" cards and 3 great alternatives
1. BankAmericard for Students. This card offers  0% APR introductory financing for 15 months on both new purchses and balance transfers, with a 3% balance transfer fee. This is not a bad deal, but check out the alternative.
Alternative: Slate from Chase. To their credit, Chase doesn't even offer any products labelled as a "student credit card." But its Slate card does offer the only 0% APR balance transfer with no balance transfer fee.  Their promotional financing is also valid for 15 months on both balance transfers and new purchases. There is no annual fee for this card.
2. The Citi Forward for College Students
. This card offers monthly incentives for paying your bills on time and staying within your credit limit. But those bonuses are extremely small and all credit card users should be doing this anyways. The bonuses include a reduction of your APR by a quarter of one percent (.25%) and 100 ThankYou points that are worth only $1.00.
Alternative: The Citi Simplicity. In addition to 18 months of 0% APR on both purchases and balance transfers, it offers no annual fee, no late fees, and no penalty interest rate. There is no annual fee for this card.
3. MTV Visa Credit Card from Capital One. This card is targeted at students and offers 5 points per dollar spent on entertainment, 2 points per dollar spent at restaurants, and one point per dollar sent on all other purchases. It even offers a monthly bonus of 25 points when you pay your bill on time each month. Since points are worth one cent each, that bonus is only equal to a quarter!
Alternative: Capital One's Cash Rewards is also aimed at people with average credit. This card offers 1% cash back on all purchases and another .5% back as an end of the year bonus. And it doesn't patronize you by giving you a shiny quarter each month just for paying your bill on time. There is a $39 annual fee for this card.
Sign up for Capital One's Cash Rewards
By taking the time to look past the labels, students can find the right credit card for their needs, and not be just the target of a marketing campaign.
The following two tabs change content below.
Latest posts by Jason Steele (see all)