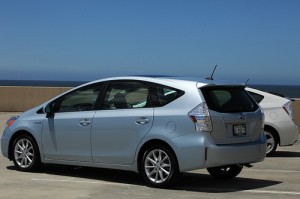 As thrifty people we are always looking for ways to save money.  After all, there is no reason to waste money if we can avoid it.   There are some ways that are excellent and easy ways to save money and some will be more worth your time.  With gas prices bouncing between $3 and $4 per gallon, many people are looking for ways to save on fuel costs.  Some have taken the plunge and purchased a hybrid vehicle in order to maximize their fuel economy and minimize their fuel expenses.  But are they really saving money?
As Americans, we love to drive.  The average driver puts 12,000 – 15,000 miles on his or her vehicle each year.  Depending on the type of vehicle driven, the costs can really add up.  If you have an older vehicle, or a larger vehicle and you get 15 miles per gallon, you are spending $2,400 per year on fuel costs (assuming 12,000 miles per year and $3 per gallon of gas).  If you have an efficient car, one that gets about 35 mpg, you will be spending right around $1,050 per year.
Many people who are looking for a new care might be considering a green vehicle.  The most common, of course, is a hybrid.  But these vehicles come with a premium.  According to Kelley Blue Book the base model for a 2013 Toyota Camry at dealer invoice is $21,105.  The base model for a 2013 Hybrid Toyota Camry comes in at $24,809.  In order to get the hybrid technology, you will be spending an additional $3,704.  What that buys you is 40 miles per gallon instead of 35 miles per gallon (in addition to some other perks, but for the sake of argument we are just looking at fuel economy).  What this means is that if you drive 12,000 miles per year (and assuming $3 per gallon for gas), you will spend $900 on fuel with a hybrid Camry, and $1,050 with a standard engine.  Total savings: $150 per year.  In order to make up the difference between the sticker prices, you will need to keep the vehicle for 24.5 years (not taking into consideration the ever increasing fuel costs).
Now there are a lot of different factors that will vary in this analysis.  If you drive more miles per year, or live in an area that charges more per gallon the payoff period will be shorter.  If you want to drive a hybrid because it is better for the environment, the analysis becomes more complicated; how do you quantify that?  But if you are looking to straight up save the most on fuel costs, a hybrid might not be in your best interest.
Do you own a green vehicle?  Would you ever consider it?
The following two tabs change content below.
Scott Sery
Scott Sery is a native to Billings, Montana. Within an hour in nearly any direction he can be found fishing, hunting, backpacking, caving, and rock or ice climbing. With an extensive knowledge of the finance and insurance world, Scott loves to write personal finance articles. When not talking money, he enjoys passing on his knowledge of the back country, or how to live sustainably. You can learn more about Scott on his website
Sery Content Development
Latest posts by Scott Sery (see all)