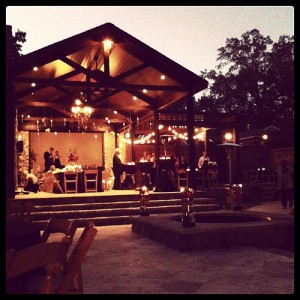 If wedding bells are in the air, then there are many questions that come to mind. Who will I ask to be in the wedding? DJ or live music? Chicken or steak, or both? Destination or traditional venue?
For those looking to save some money with those upcoming nuptials, there's no better destination for a wedding then your own backyard. Sure, it's an everyday location, but think of it as a fresh palette. You can make it completely your own.
Here are some ideas on pulling off the perfect DIY backyard wedding that will make your memorable day even more memorable, as it's at the comfort of your own home – from the centerpieces to the music.
Centerpieces
There are so many glass jars that we use day to day that would be perfect as a beautiful centerpiece. Start saving spaghetti jars, mason jars, and jam jars – you'll be glad you did.  Once you have your collection saved, simply place a votive in each jar and place a combination of jars on each table. This will ensure a wonderful backyard ambiance.
Photos
Instead of hiring an expensive photographer, have some fun with a homemade photo booth. Make it fun with your own props (sunglasses, fake mustaches, feather boas). Not only will you get some memorable photos, your guests will have fun with the process.
Music
Skip the DJ and go for the iPod. Prepare in advance with some of your favorite tunes loaded on a playlist. Many iPod's have docking stations that allow you stream the music throughout the event for all to hear.
Food
If you are really looking to personalize your wedding incorporate some of your favorite family recipes. From Grandma's favorite cheesecake to your Great Aunt's amazing spaghetti sauce, add a touch of each family member's renown staple food. Add some creative food tags in front of each item so your guests know the history behind it. This will make your food not only memorable, but offer a variety of your favorite tastes.

Décor
There's nothing a string of Christmas lights can't do. String them across trees, fence posts, and everywhere in between. This will make for the most magical, romantic setting imaginable. Along with the lights, add some colorful paper lanterns for a pop of color. Also, instead of expensive flowers, incorporate some of your favorite flowers from your own backyard. The plus side, they can stay in your yard long after the wedding.
Party Favors
With the garden party theme, should be a garden party favor. Add a bulb of your favorite flower in a package for your guests. It can be simple and beautiful in a paper bag with a ribbon that matches your wedding colors.
Final Thought
With all of these DIY solutions available, all that's left is saying your "I dos".
As an added bonus I have joined a group of bloggers and we are giving away two gift certificates to Soulmates Dresses.  All you need to do is enter using the form below.
a Rafflecopter giveaway
The following two tabs change content below.
Latest posts by Samantha Bryant (see all)