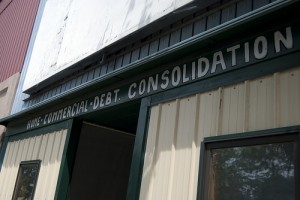 If you're in debt then somehow, the idea of packaging that debt up neatly into one little box is always an appealing thought. So when you read about debt consolidation, it often seems like a great idea. But is it really such a good idea?
What is Debt Consolidation?
To consolidate your debts simply means to bring them into one; consolidating them into one overall balance. The theory goes that if you have all your debts in one place, you'll be able to pay the lot off by one monthly payment at a time and life will be a lot simpler. And there's a lot of truth in this. But remember that debt consolidation loans aren't always as good as they seem – and there is more than one option for how you organize them.
The Downsides
The main pitfall is that people in debt are often so panicked about it all that they'll easily turn to what seems like a simple solution and are easily taken in by adverts from companies offering to consolidate their debts.
By allowing such a company to take over our debts and to speak to our creditors and rearrange things on more favorable terms, the companies promise to alleviate the pressure on us and get our debt problems better organized once and for all.  Typically debt consolidation deals run with an APR of around 6% and extend for three to five years on average.  It may be simpler just to organize all of your debts on your own and pay them off with a debt snowball method.
The Advantages
Alternatively, if you have a good credit rating, you may qualify for a 0% balance transfer credit card which will enable you to pay off all your debts – but there are transfer fees and the big danger here is the availability of further credit which could plunge you further into debt.
Overall, debt consolidation via a professional company can be good thing as they'll negotiate with your creditors. But be wary of the up-front charges and check out references and recommendations from others before deciding which, if any, to choose.
The following two tabs change content below.
Sean Bryant
Sean Bryant created OneSmartDollar.com in 2011 to help pass along his knowledge of finance and economics to others. After graduating from the University of Iowa with a degree in economics he worked as a construction superintendent before jumping into the world of finance. Sean has worked on the trade desk for a commodities brokerage firm, he was a project manager for an investment research company and was a CDO analyst at a big bank. That being said he brings a good understanding of the finance field to the One Smart Dollar community. When not working Sean and he wife are avid world travelers. He enjoys spending time with his daughter Colette and dog Charlie.
Latest posts by Sean Bryant (see all)