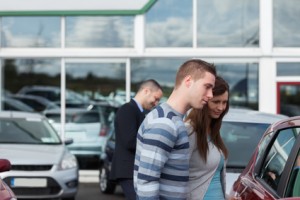 "Should I buy used or new?"
That's one of the most common and most important questions car buyers often ask themselves as they look for their next vehicle. But while it's hard to pass up that wonderful feeling of owning a brand-new car (along with that new-car smell), you can get a bigger bang for your buck when you buy used.
Today's used cars are a better value than ever, especially for young families and recent graduates who have to watch their dollars more carefully. If you're still convincing yourself that you need a new car, take a moment to look at the following arguments and the great rebuttals that follow:
I Can Afford a New Car
So far, more than 14.2 million new cars and trucks have found their way into America's garages and driveways, according to recent figures from NADA. If you have good credit and a decent down payment set aside, then you could probably afford a new vehicle. However, buying used represents a better value in the long run, especially if you're on a tight budget. The money you save can go toward other expenses or perhaps end up in a rainy day fund.
Depreciation is one major disadvantage to buying a new car (although it definitely helps if you're buying used, as you'll read later). The average resale value of a new vehicle dwindles as soon as it rolls off the dealer's lot. Kelley Blue Book notes that the average new vehicle retains only 35 percent of its original value after a five-year ownership period.
Used-car buyers can benefit from the depreciation rates suffered by new car buyers. The previous owner takes the initial depreciation hit for you, making a used car much more frugal than buying new.

I Want the Latest Car Technology
Over the past few years, features like Bluetooth, navigation and compatibility with the latest iPods and other music players have gone from being the sole province of new cars to being available in most used cars.
Although it won't be able to pick and choose the options you want right away, chances are there's a used car out there that has the features you want. Nationwide dealers, such as Drivetime, have a wide selection of cars you can search by state or city, many of which offer a plethora of modern features you expect out of your next vehicle.
I'll Benefit From the New Car Warranty
Today's cars are a lot more reliable than you'd think. With longer intervals between oil changes and tune-ups thanks to improvements in automotive technology, most modern cars can easily last for 250,000 miles or more, according to ASE-certified master technician and Chicago Times-Tribune columnist Bob Weber. This doesn't mean you don't need a warranty, but at least you can put your concerns about reliability to rest.
Besides, buying new isn't the only way to get a great warranty. Chances are your dealer has a certified pre-owned program that offers a comprehensive warranty in addition to well-kept and thoroughly inspected pre-owned vehicle.
Another option involves an extended warranty from a third-party provider. Such warranties offer many of the same features and benefits as a factory warranty while throwing in a favorable cost/benefit ratio. According to a recent survey conducted by Consumer Reports, owners spent an average of $1,000 on their extended warranties, which provided an average benefit of $700.
The following two tabs change content below.
Sean Bryant
Sean Bryant created OneSmartDollar.com in 2011 to help pass along his knowledge of finance and economics to others. After graduating from the University of Iowa with a degree in economics he worked as a construction superintendent before jumping into the world of finance. Sean has worked on the trade desk for a commodities brokerage firm, he was a project manager for an investment research company and was a CDO analyst at a big bank. That being said he brings a good understanding of the finance field to the One Smart Dollar community. When not working Sean and he wife are avid world travelers. He enjoys spending time with his daughter Colette and dog Charlie.
Latest posts by Sean Bryant (see all)