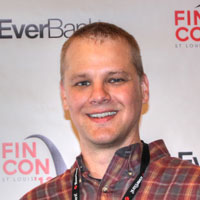 When I first got into a personal finance blogging there were a handful of bloggers that I would follow on a regular basis to see what they had to say.  One of those bloggers was Peter from BibleMoneyMatters.com.  I had the chance to briefly meet Peter this year at Fincon13.  Even though he comes from Minnesota and is a rival of my Iowa Hawkeyes, I wanted to ask him a few questions to give you more insight into his background.
Sean:  Can you tell us what the motivating factor was for starting BibleMoneyMatters.com?
Peter:  Around the time that I started my personal finance blog I was in the midst of trying to gain a bit more control of my family's finances. We had signed up to take Dave Ramsey's Financial Peace University through our church, and we were really learning a lot about debt, saving, investing and so on. I wasn't just taking the class though, I was also reading personal finance blogs, money magazines and finance books, and after a while I realized that I may have something to contribute. I decided to start writing a little bit about some of the things I was learning, not only for myself as sort of an online journal, but also to help others that might be going through similar situations. I was motivated to start my site mainly because I wanted to better cement in my mind the things I was learning, and I hoped to help a few other people in the process. 
Sean:  Did you have any bloggers that you looked up to that you can attribute your success as a blogger to?
Peter:  Back when I started blogging there weren't nearly as many personal finance blogs as there are today, but some of the sites I was reading back then include ChristianPF.com, GatherLittleByLittle.com and GetRichSlowly.org, along with a few others.  At the time I started however, there were quite a few other blogs that started at the same time, folks that have helped me a lot over the years including Glen with FreeFromBroke.com, Phil with PTMoney.com, Jeff with GoodFinancialCents.com, Ryan from CashMoneyLife.com and Tom with CanadianFinanceBlog.com. If you want to stay in the blogging game I think it's key to get in with a group of like minded bloggers that you can bounce ideas off of, and get feedback from.
Sean:  Now that you have been running Bible Money Matters for nearly six years if there anything that you have done that makes you say, "I wish I had done this differently?"
Peter:  I don't know if there are a lot of things that I wished I had done differently. For the most part things have worked as I had planned. I've been able to leverage my site into a second full time income for my family, allowing my wife to stay home with our son and give us some added financial security. I think mainly my regrets would involve taking certain short term gains on my site, that in the long run may have hurt the site's brand, instead of focusing more long term on the brand that I was building. If you want to be a long time blogger, make sure you're always aware of your long term outlook, and that you don't harm the equity you're building up in your brand.
Sean:  What is the best advice you have ever received?  It could have been from a parent, a teacher or even a fan of yours.
Peter:  The best piece of advice I've ever received was to realize that money and possessions won't make you happy, there is nothing about it inherently that will make you happy. A quote about this idea:
"Money has never made man happy, nor will it, there is nothing in its nature to produce happiness. The more of it one has the more one wants."  – Benjamin Franklin
To find happiness you need to look to a higher power, and live a life filled with love, giving and selflessness.  
My parents lived out this advice in their lives and it has served me well. I'm grateful for their example.
Sean:  What is the best advice that you can give to someone who is struggling with debt?
Peter:  Debt has a way of taking over your life, limiting your choices and becoming an all encompassing weight on your shoulders. It often starts out innocently enough, often with good intentions of living a better life, helping out others or improving ourselves. In the long run, however, if you allow debt to become an acceptable part of your financial life it will restrict your freedom and choices for the future.  My advice to someone who is struggling with debt is just to be honest with themselves about where they are, and where they want to be in the future, and then make a decision to not allow debt to become their master. Make a commitment to spend much less than your means allow, and knock the debt out as fast as you can.
Sean:  Anything new and exciting planned for Bible Money Matters in the near future?
Peter:  I have a few things in the works right now, the biggest of which is a full site redesign. I've been rocking the same layout and design on my site for the past 4 years or so, and it's time for a new look. Along with the new look the site will soon be mobile responsive as well, so that all the newer generation of devices will be able to view the site without problems. Along with that I'm also in the midst of writing an ebook on making over your finances. It will cover everything from saving on your everyday expenses, to finding ways to make more money to pad your bottom line. I hope to have the new design launched in the next month or so, and the ebook soon thereafter.
I want to thank Peter for taking the time to answer my questions.  If you don't already read Bible Money Matters then I highly suggest you head over and bookmark it.  He has some great advice for everyone.
Make sure you also check out my previous blogger interview with Tracie from PennyPinchinMom.com
The following two tabs change content below.
Sean Bryant
Sean Bryant created OneSmartDollar.com in 2011 to help pass along his knowledge of finance and economics to others. After graduating from the University of Iowa with a degree in economics he worked as a construction superintendent before jumping into the world of finance. Sean has worked on the trade desk for a commodities brokerage firm, he was a project manager for an investment research company and was a CDO analyst at a big bank. That being said he brings a good understanding of the finance field to the One Smart Dollar community. When not working Sean and he wife are avid world travelers. He enjoys spending time with his daughter Colette and dog Charlie.
Latest posts by Sean Bryant (see all)