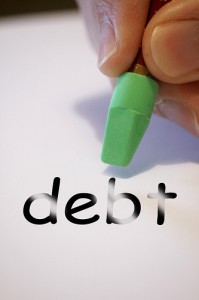 Tracie shares her money saving tips and ideas daily atPenny Pinchin' Mom.  She is featured regularly on her local CBS Affiliate – KCTV5 – helping local families learn how to make the most of their own budget.  When not busy saving money and helping others, she is a mom to 3 kids, ages 4 – 8, at her home outside of Kansas City, MO.
There is a lot of information out there from all sorts of experts about how you can get out of debt.  I often wonder if they really even know what it is like to be on the brink of losing it all.  Have any of them declared bankruptcy?  Have they dug themselves out of a mountain of debt?
I am one of those people.  I understand.  I've declared bankruptcy.  I've even paid off debt with hard work and determination.  I share this story with all of you, not for accolades or "atta' girl" notations, but rather because it sometimes helps to know that you are not alone and there really can be a light at the end of the tunnel (no matter how long that tunnel might be).
Back in 2001, my life was good.  I was almost thirty years old and had a good job.  I didn't pay that close attention to the items I purchased with my credit cards.  Heck, it was sweet because I had this great stuff and just paid a little bit each month.  It wasn't until December 2001 when the reality of my debt came crashing down upon me.  I was ending a long term relationship and was no longer able to make ends meet.  I knew that something had to change, but being young (and still pretty stupid), I did what I thought was the only answer — bankruptcy.
I was officially labeled BANKRUPT in August 2002.   It was a sickening feeling.  Even more than that, I was ashamed.  How had I allowed myself to get into this situation?  I wiped the tears from my face and vowed to leave that in the past and focus on my life — a new life with my new fiancé.
In June 2003, we were married.  Being a little older, we both knew we wanted to start a family right away.  We also knew that we wanted me to stay home to raise our kids.  Now, knowing this might pose a slight financial strain upon us, we knew it was worth it for our children.
Money was tight after our daughter was born; however, we never used credit cards to pay bills – not even groceries.   We had accumulated some debt which included auto loans, a home equity loan and one department store credit card.    We figured that was "OK debt."  Some months we struggled to make our payments, but we managed.  Not sure how, but we did.
In October 2007 we learned about Dave Ramsey.  The more we read about his methods, the more intrigued we became.  We both thought the idea of not having debt was incredible, but weren't sure we had the means necessary to achieve that goal.    So we bought his books and sat down and read them cover to cover and within a few days and were inspired to get started!!
We changed our way of living.  I did the same steps many others have done – right down to cutting up those credit cards and using only cash for everything.    The toughest thing for us was that budget.  Ugh – a budget.  It can make you sick to your stomach.    We had to keep tweaking it, but we got it to work.  How?
We reduced our grocery budget and then used extra money to pay down debt.  Part of doing so was to find a way to save more money at the store.  Through learning to do so and sharing these tips with friends and family, I started a blog.   As I shared my deals, we continued to pay down our debt.  We sold items.  We didn't eat out.
Finally – in February 2010 – we made our final debt payment!  It was liberating.  I can't describe the feeling.  This time around I did it the RIGHT way.  I didn't just run from my debt.  I faced it head on – with my husband.  We paid it all down.  It took us 27 months, but we did it.   Paying off our debt was truly the most liberating feeling in the world!!  As part of our journey, both my husband and I learned our most important lesson "There is no such thing as good debt."
I am proud of so many accomplishments in my life (my husband, my kids and my site), but I am also very proud that I was able to actually pay off that much debt.   When I say that this was life changing – it truly was.  Not only did we pay off our debt (other than our mortgage), we permanently changed our way of living.  To this day, we still use the same budget form.  We check and update it regularly.  We still use cash — and use our envelopes. If you ever catch me shopping at the store, you will see that is how I pay.   We still have no debt – and do not plan on heading down that path again.  We have fully funded our emergency fund.  We have been able to do things that we want to.  When you do not have debt, your money is all yours.
I share my story with all of you so that you all know that it is possible to do this.   I want you to know that I understand where you are at – more than most of you probably ever realized.  If you want to change your life, you can do it.   But only you can make the decision to change your life – for the better!!
Editor's Notes:  As some of you know I run the coupon and deals website FreeSnatcher.com, which has led Tracie and I to become friends over the past few years.  I knew about her amazing story and was thrilled when she wanted to share it with all of you.  Tracie is a great example that no matter how bad you might think your debt situation is, you can always recover.
The following two tabs change content below.
Sean Bryant
Sean Bryant created OneSmartDollar.com in 2011 to help pass along his knowledge of finance and economics to others. After graduating from the University of Iowa with a degree in economics he worked as a construction superintendent before jumping into the world of finance. Sean has worked on the trade desk for a commodities brokerage firm, he was a project manager for an investment research company and was a CDO analyst at a big bank. That being said he brings a good understanding of the finance field to the One Smart Dollar community. When not working Sean and he wife are avid world travelers. He enjoys spending time with his daughter Colette and dog Charlie.
Latest posts by Sean Bryant (see all)