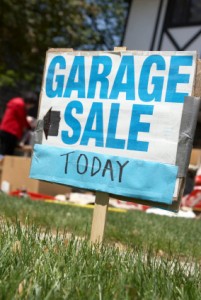 Last week the U.S. Department of Labor announced that the unemployment rate had crept its way back up to 8.3 percent. It seems like no job is secure anymore, so being able to have multiple sources of income has never been more important.
Whether you are fully employed and looking for a side job, unemployed or a stay-at-home mom then there is a good chance you have looked into work at home jobs. With so many options to choose from and quite a few work from home scams it can be a little overwhelming. Below I have listed five easy ways to make money from home.
5 Easy Ways to Make Money From Home
1.  Set up Shop at a Farmer's Market
My wife and I love to go to our local farmer's market each Saturday. I like buying all the fruits and vegetables that I don't grow in my own garden. There are also vendors that sell everything from ceramics to jewelry, and even homemade pasta.
If you have something special that you produce from the comforts of your own home, whether it's from your kitchen or from your crafting table, there is likely a market for it. Before taking the plunge into this new opportunity make sure that there is not an over saturation of the product you're wanting to provide. You will also want to make sure there are no special city permits that you will be required to possess. This could cut into your profits.
2.  Become a Virtual Assistant
Another easy way to make money from home is by becoming a virtual assistant. You have the freedom of working from your own home office taking care of administrative, technical and other business support services.
The best part is you can pick what hours you work. Most employers will give you specific tasks to complete during a day or week.  This gives you the opportunity to do your job when you're free and still enjoy all the other activities in your life.
Most small business employers love to hire virtual assistants because they tend to be cheaper than a full time employee. While virtual assistants can have a higher hourly rate, they usually don't have any benefits. If you are interested in finding a virtual assistant job check out VirtualAssistant.org.
3.  Become a Freelance Writer
If you have a love for writing then you might want try to profit off that love. Gone are the days where there were only writing opportunities for print publications. Now you have an endless supply of websites that are looking for quality writers to provide them content. Depending on your skill and experience, it is completely possible to make a full time living from your writing.
There are numerous ways that you can go about finding freelance writing jobs. You can pick the niche you want to write for and then make a list of some of the top blogs/websites. Most of them will have a link on their website if they have open writing positions. You can also checkout online job boards such as Elance, Freelancer or ProBlogger.
4.  Sell Beauty Products
Several different beauty product companies such as Mary Kay or Avon hire independent reps to sell their products. These jobs allow you to set your own hours and work from your home when you're not out making sales.
These are great opportunities for people who have big social circles or have developed a blog that they can use to sell their makeup.
5.  Sell Your Garage Sale Finds
If you are anything like me, when you head to a garage sale you wonder how much most things are really worth. Well, let me tell you there are a lot of items worth much more than they are being sold before. The reason for this is because there is always a market for everything. As the saying goes, "one man's trash, is another man's treasure."
A lot of times you can find books, DVD's and other items that you can end up selling for a higher price than you paid. Try selling your goods on Amazon.com
or eBay.
If the work from home lifestyle is better suited for your family's needs then the opportunities are out there. There are a lot of get rich quick and work from home scans, so you need to be careful. Make sure you follow the general rule, "if it seems too good to be true, than it probably is."
Did you enjoy this article? If so sign up for our daily newsletter so you can stay on top of every personal finance topic we cover. Also check us out of Facebook, Twitter and Google+.
The following two tabs change content below.
Sean Bryant
Sean Bryant created OneSmartDollar.com in 2011 to help pass along his knowledge of finance and economics to others. After graduating from the University of Iowa with a degree in economics he worked as a construction superintendent before jumping into the world of finance. Sean has worked on the trade desk for a commodities brokerage firm, he was a project manager for an investment research company and was a CDO analyst at a big bank. That being said he brings a good understanding of the finance field to the One Smart Dollar community. When not working Sean and he wife are avid world travelers. He enjoys spending time with his daughter Colette and dog Charlie.
Latest posts by Sean Bryant (see all)