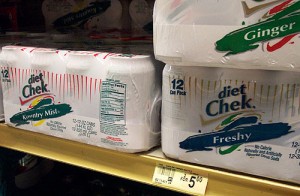 In addition to identifying the best time to buy items, opting for generic brands over name brand versions is a great way to cut costs. In fact, buying store brands can save consumers between 30 and 52 percent, according to Consumer Reports.
Despite the savings potential, Americans are still suspicious of store brands. I'll freely admit to once being part of the skeptical crowd. But, when I finally tried generic versions of select products, I discovered just how financially damaging buying name brand can be. Upon discovering this, my brand loyalty quickly faded. Quality isn't necessarily the reason for the price discrepancy, as is the case with these items. I always find it best to buy generic.
Baking Products
I'm a big fan of baking and grew up with C&H sugar and Gold Medal flour. Once I started purchasing these ingredients for myself, I quickly turned to store-brand versions since I couldn't imagine much chemical difference between brands. Thankfully, I was right. The FDA demands all brands of flour, sugar, salt and spices have the same ingredient and production standards. Despite standardization, the range in price across brands of spices are incredible, with branded bottles of basil costing upwards of four-times more than store brands.
Cereal
Buying brand-name cereal may be one of the best ways to waste money, but parents' inclination to do so is understandable given how much advertising is directed at kids. Bright colors and friendly cartoon mascots are irresistible to small children, yet parents might find the 25 to 50-percent price difference between generic and name-brand cereals hard to refuse. Generic cereals look the same, often come in a bigger box, and differences in taste are minimal. Don't believe me? Check the results of this all-kid panel of taste testers coordinated by fellow blogger Len Penzo.
A/V Cables
My husband will be the first to tell you never to purchase A/V cables from the store. These cables carry heavy markups and are often pitched as better quality than no-name brands. Not so! As a recent article in PCWorld points out, "cheap, generic HDMI cables provide just as good an image and sound as the high-priced alternatives." Instead of caving to the sales pitch at your local electronics retailer, order your A/V cables from Amazon or MonoPrice.
Black-and-White Ink Cartridges
To paraphrase Jane Austen, "it is a truth universally acknowledged" that ink cartridge prices incite rage within even the calmest of people. I tried twice to purchase the $30 ink replacement for my Kodak printer, only to leave the store grumpy and without ink. According to Lifehacker, generic ink cartridges are fine for basic black-and-white printing, but aren't the best for high-quality color or photo printing.  Consumers with basic printing needs can use sites like InkjetWilly.com to easily compare the cost of generic, remanufactured and OEM cartridges to find the cheapest price.
Medications
Despite the foothold Tylenol, Advil and other brands have in the minds of consumers, store-brand medications are just as effective and cost significantly less. In fact, generic medications have the same active ingredient dosage as their name-brand counterparts, as required by the FDA. (This requirement extends to vitamins and prescription medications, too.) For example, a small bottle of Tylenol Extra Strength capsules cost a little over $3.50 at my local Walmart. The Equate brand features the same number of pills and dosage of acetaminophen, but costs just $0.98.
Select Toiletries
I've read a few stories that suggest generic cosmetics are just as good as their designer counterparts. I know several women who would vehemently disagree, however, so I'm going to leave that one alone.  Still, I can personally attest to select personal-care products being better generic buys. I used to spend $15 on Aveeno face moisturizer until I compared its ingredient list to the generic option priced at a whopping $10 less. The same goes for eye-makeup remover. The store-brand version of Neutrogena's oil-free product is a couple bucks less and contains the same ingredients.
Baby Formula
When it comes to feeding a new baby, it's understandable most parents gravitate toward name brands — especially since the samples brought home from the hospital are typically Enfamil or Similac. However, the Infant Formula Act passed in 1980 guarantees all formulas are identical in the nutrition they provide, and further certifies any formula you buy is good and healthy for your baby. Differences in formula are confined to taste and texture, so it's worth trying the generics before opting for pricier name brands. When in doubt, consult with your pediatrician.
What items do you buy generic? If you typically purchase name brand items, what's keeping you from trying the store brand versions?  Is it just because of Brand Loyalty?
Kendal Perez is a bargain-shopping blogger for HassleFreeSavings.com where she shares personal stories about her pursuit of savings.
The following two tabs change content below.
Sean Bryant
Sean Bryant created OneSmartDollar.com in 2011 to help pass along his knowledge of finance and economics to others. After graduating from the University of Iowa with a degree in economics he worked as a construction superintendent before jumping into the world of finance. Sean has worked on the trade desk for a commodities brokerage firm, he was a project manager for an investment research company and was a CDO analyst at a big bank. That being said he brings a good understanding of the finance field to the One Smart Dollar community. When not working Sean and his wife are avid world travelers. He enjoys spending time with his two kids and dog Charlie.
Latest posts by Sean Bryant (see all)