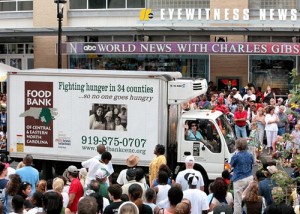 The goal of many people is to be rich.  To most this simply means having enough so that they do not need to worry about supplying themselves, and their families, with the necessities of life.  This also means that there is a lot more to life than what money provides.  Some of the wealthiest people on the planet do not live a rich life.  Living a rich life means having fun and doing what you like.  At the end of the day you should be able to relax and think it was a day well lived.  Sometimes the best way to get that fulfilled feeling is to give it away.
Giving Time
Charitable organizations always need money.  It costs money to keep them in business helping people.  Just as important as the finances, is manpower.  These organizations almost always have something going on that could use extra help.  Calling up your favorite charity and finding out how you can pitch in will cost you nothing except some time, and you will get "paid" with making new friends and sometimes lunch will be provided.  Volunteering does not have to be strictly about you giving up your time because those friends and connections you make might come back around to help you down the road.  If you have a business that needs clients, you will have a whole set of new people to call on.  Maybe someday you will find yourself in need of a job, and one of your new friends will have a lead for you.
Giving Resources
In the grand scheme of things, you make plenty of money.  In fact, if you make $50,000 per year you make more than 99.02% of everyone in the world (see where you rank at
globalrichlist.com
).  That said, you have more than enough to give back to those who are less fortunate.  Just a few dollars per month will go a long way in the lives of others.  While socialism as an economic model rarely works, philanthropy as a personal model is a great thing.  Setting aside a small portion of your income to help those in need will help get rid of the "bad" things in the world.  Don't have enough cash left over each month to give some away?  I'm sure you have possessions that sit around and collect dust.  Drop them off at Goodwill or another thrift store.  You can always get a receipt for your gifts (cash or otherwise) and deduct them off your taxes.
Most of the time it feels really good to give away time, possessions, or money.  As members of thriving western cultures we have more than enough to live on.  Even after giving it away, we will still have enough to take care of ourselves and our families.  By giving it away you will live a rich life, and help others to live rich lives of their own.  If you have not yet started giving it away, try it out.  Even the smallest acts of kindness can go a long way if given from the heart.
The following two tabs change content below.
Scott Sery
Scott Sery is a native to Billings, Montana. Within an hour in nearly any direction he can be found fishing, hunting, backpacking, caving, and rock or ice climbing. With an extensive knowledge of the finance and insurance world, Scott loves to write personal finance articles. When not talking money, he enjoys passing on his knowledge of the back country, or how to live sustainably. You can learn more about Scott on his website
Sery Content Development
Latest posts by Scott Sery (see all)