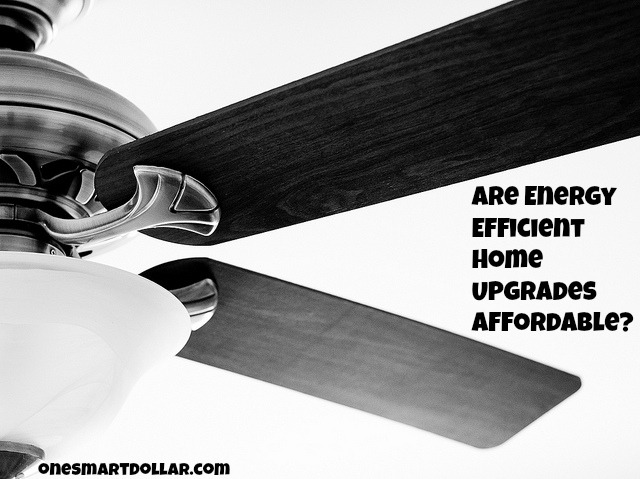 Green homes are not just a trend anymore – energy-efficient upgrades are a great way for current homeowners to invest in their properties and save on utility costs simultaneously. Although green living is responsible, it comes at a price. However, many of these costs can be subsidized through government programs and energy expenditure cuts.
Deciding whether or not it's worth it to update your home with energy-efficient materials? Consider the following low-cost, high-savings upgrades.
Low-Flow Faucets
Low-flow fixtures are inexpensive and easy to install, making them the perfect place to start in your path to eco-conscious homeownership. In fact, these installments save as much as $145 per year according to Energy Star. A low-flow showerhead only costs about $20 at your local home improvement store, making the return on investment both quick and easy.
Fluorescent Light Bulbs
Unlike candescent bulbs that burn out rather quickly, fluorescent bulbs last four to 10 times longer than the typical light bulb. Energy-efficient lights are initially more expensive than regular bulbs, but use 75 percent less energy and lead to a $6 per year savings, according to Energy Star.
Also Read: 10 Ways to Save Money on Your Electric Bill
Weather Stripping
Weather stripping comes in various forms. A narrow piece of metal, vinyl, felt, foam or rubber can be applied around windows and doors to seal gaps between the frames and fixtures. Approximately 10 percent of air leakage in homes escapes through windows and 11 percent leaks through doorways. A roll of weather stripping is inexpensive at $5 per roll, with price varying depending on the material used.
New Insulation
According to the North American Insulation Manufacturers Association, proper insulation reduces heating and cooling costs by 20 percent for the average household. The average utility bill is comprised of almost half (42 percent) heating and cooling costs, so eliminating excess heating and air conditioning consumption can have a large impact over time.
Ceiling Fans
Summer is hot for most areas of the country, which may lead many homeowners to turn down their thermostats and crank up the air-conditioning. Unfortunately, blasting cold air throughout your home leads to higher energy costs. Rather than waste money, purchase a ceiling fan for around $50 to better circulate air throughout your home.
Homeownership and utility costs are expensive. If you're interested in freeing up some of your monthly expenditures for green home upgrades, enter the Zillow Pay My Mortgage Sweepstakes to get $25,000 toward the remainder of your home loan. One lucky winner can use their newfound financial freedom to make some of the more costly – but smart – energy-efficient upgrades, such as solar panels and window replacements.
The following two tabs change content below.
Sean Bryant
Sean Bryant created OneSmartDollar.com in 2011 to help pass along his knowledge of finance and economics to others. After graduating from the University of Iowa with a degree in economics he worked as a construction superintendent before jumping into the world of finance. Sean has worked on the trade desk for a commodities brokerage firm, he was a project manager for an investment research company and was a CDO analyst at a big bank. That being said he brings a good understanding of the finance field to the One Smart Dollar community. When not working Sean and he wife are avid world travelers. He enjoys spending time with his daughter Colette and dog Charlie.
Latest posts by Sean Bryant (see all)