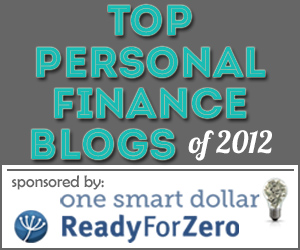 With a tremendous outpour of support for personal finance bloggers, we are pleased to announce the votes are in for the "Top Personal Finance Blogs of 2012." It was a pleasure each and every day checking the standings and we couldn't be more thrilled to recognize these leaders in the financial blogosphere.
With the votes in, it's reward time. One Smart Dollar, along with ReadyForZero, would like to ultimately recognize and support those who have truly helped make a difference in peoples live via blogging. Whether it's helping readers pay down debt, save for retirement, and make wise investments, it's time to recognize those who served to make their readers lives better one dollar at a time.
With that, below please find the blogs that had the financial know-how to earn the title of, "Top Personal Finance Blogs of 2012." We'd like to award the top three blogs with prizes including an iPad Mini for first pace, $100 cash prize for second place, and $50 cash prize for third place. Plus, as an added bonus, we are giving the first place winner the opportunity to host its own giveaway offering $100 cash prize with the goal to help one of their readers to pay down debt or add to savings.
And the winners are …
1st Place – This That and The MBA
2nd Place – Mr. Money Mustache
3rd Place – We Only Do This Once
Congratulations to the winners and keep doing what you do best, making "cents" of the financial world. Thanks to all who voted and supported your favorite blogs. This just goes to show that the world of financial blogging is not only flourishing, but also supportive in every way.
The following two tabs change content below.
Sean Bryant
Sean Bryant created OneSmartDollar.com in 2011 to help pass along his knowledge of finance and economics to others. After graduating from the University of Iowa with a degree in economics he worked as a construction superintendent before jumping into the world of finance. Sean has worked on the trade desk for a commodities brokerage firm, he was a project manager for an investment research company and was a CDO analyst at a big bank. That being said he brings a good understanding of the finance field to the One Smart Dollar community. When not working Sean and he wife are avid world travelers. He enjoys spending time with his daughter Colette and dog Charlie.
Latest posts by Sean Bryant (see all)