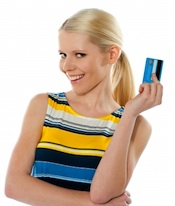 We all want the chance at debt free living.  For some of us it is a struggle to get there compared to others.  Bad debt can begin to control our lives and it becomes hard to shake the high interest payments we are making each month.  If this sounds like you try these steps and start taking control.
Sit down and figure it out
Get a piece of paper, a calculator, and work out who you owe what to, and when it is owed.  If your debt repayments eat up more than 20% of your monthly earnings, then you're getting into dangerous, unmanageable territory.
Budget
Now that you know what you owe, work out a budget, which will include all your incomings, your outgoings (e.g. rent/mortgage, food, bills etc.), and any debts you owe.
Be mindful and stick to your budget
There's no point in making a budget if you're not strict with yourself. Turn it into a game to see how frugal you can be during the week to reward yourself at the weekends – whatever helps. Giving yourself a daily budget is also a good idea – this way, your progress won't be too hard to keep track of.
Set up direct debits for bills
Most providers offer discounts for direct debit payments, and besides, you won't have to think about it if you automate payment – therefore you'll never forget. You can even set up reminders on your phone a week or so before the bills are due to come out to remind yourself to check that you've definitely got enough in your bank account to cover the payments… Which you should do if you're sticking to your budget!
Review your utility/insurance/mortgage/credit card suppliers
You could save hundreds of dollars each year here. This is a big job, but actually doing a little research into which suppliers of all of the above will be well worth it. Use websites and internet forums like moneysavingexpert.com to find honest information about what's cheapest and ways to save. There's a mine of information out there – All you have to do is go find it!
If you struggle with high interest credit card debt make sure you move to a
0% balance transfer credit card
.  This will be a short term fix for any high interest payments you are making and allow you to focus on paying down your principal amount.
If you're really in trouble and don't feel like you're in control enough to know where to begin, then get some outside help. There's lots of it around!
Creditors will always rather work with you and are more often than not happy to arrange smaller, more manageable and realistic payments over a longer period if it means that you're going to be able to pay them back more reliably that way.
Debt management companies such as payplan.com can help with debt and are good to talk to if you need guidance and will arrange repayments to all your lenders on your half. Whatever you do, act today – you never know, things might not be as out of control as you thought, and even if they are, there's always help at hand.
The following two tabs change content below.
Sean Bryant
Sean Bryant created OneSmartDollar.com in 2011 to help pass along his knowledge of finance and economics to others. After graduating from the University of Iowa with a degree in economics he worked as a construction superintendent before jumping into the world of finance. Sean has worked on the trade desk for a commodities brokerage firm, he was a project manager for an investment research company and was a CDO analyst at a big bank. That being said he brings a good understanding of the finance field to the One Smart Dollar community. When not working Sean and his wife are avid world travelers. He enjoys spending time with his two kids and dog Charlie.
Latest posts by Sean Bryant (see all)