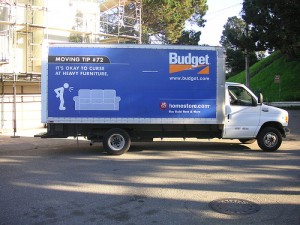 Last year my wife and I made a cross country move from Chicago to Denver. Both of us are self employed and didn't have the luxury of having our relocation costs paid for from an employer. We quickly realized just how expensive a long move can be.
We started off by thinking we might hire an inexpensive moving company to do it for us. Once we got the estimates we quickly decided that we needed to figure out some alternatives to save money. Here are five tips to help you cut your moving expenses.
1. Get Multiple quotes from Moving Companies – If you are going to use a full service moving company make sure you get quotes from at least three. While most of their prices might be in the same ballpark, the best moving companies will stand out from all the rest. When comparing the prices make sure you account for the cost of protection for all of your furniture.

2. Rent your own moving truck – This is what my wife and I ended up doing. We rented a Uhaul truck and we had local movers come in and load the truck in Chicago and others unload the truck in Denver. We found that we saved a lot of money by doing it this way. We just had to drive the truck, but for the savings it was well worth it.
3. Get Your Friends to Help – You can take #2 a little bit further and ask your friends to help load your truck instead of hiring laborers to do it for you. This was common practice for me when I was in college. I would have helped anyone move for a case of beer.
4. Pack Yourself
– Most moving companies will offer up their services to help you pack your items but this can be a very expensive. Instead save on the labor costs and pack the items yourself.
5. Save money on Packing Suppies – Packing supplies can be a huge expense. Each box can cost up to $3.00 apiece. Instead of buying new boxes ask your friends if they have boxes that you could use. You could also buy used boxes at a discounted rate. This could help you save 50% or more.
The second most expensive packing item is bubble wrap. If you have a lot of breakables than this cost can really add up quickly. You can try using newspapers and towels to pack your dishes and other breakables.
If you are going to be packing up an moving to a new city or even doing a local move make sure you follow thee tips. Not only will they help you save money but will also make the move a little less stressful.
The following two tabs change content below.
Sean Bryant
Sean Bryant created OneSmartDollar.com in 2011 to help pass along his knowledge of finance and economics to others. After graduating from the University of Iowa with a degree in economics he worked as a construction superintendent before jumping into the world of finance. Sean has worked on the trade desk for a commodities brokerage firm, he was a project manager for an investment research company and was a CDO analyst at a big bank. That being said he brings a good understanding of the finance field to the One Smart Dollar community. When not working Sean and he wife are avid world travelers. He enjoys spending time with his daughter Colette and dog Charlie.
Latest posts by Sean Bryant (see all)