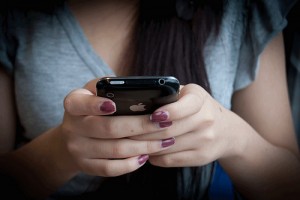 Good luck seeing the culprit's face.
Cyber criminals hide behind the veil of screens, and now they're more aggressively coming for people who communicate sensitive information via their cell phone. Last year, cyber crime complaints increased 3.4 percent compared to 2010 according to a report from the Internet Crime Complaint Center (IC3).
On average, 2011 cyber crime victims who filed a complaint lost almost $4,200. The number of complaints doesn't necessarily reflect the amount of crime though. IC3 officials have said it's an underreported crime, so an influx could just mean more consumers know they can report the crime.
Now that cell phones are in cyber criminals' crosshairs, consumers everywhere need to take caution. These tips should help you keep cyber criminals from conning you.
Minimize digital transactions
Shopping online is such a convenience, but it quickly becomes an inconvenience when your sensitive information gets snatched. The fewer online purchases you make, the more you minimize the chances of being a victim. There are secure methods of payment, such as PayPal, that you can trust. Don't think you can't make any online transaction, but it helps if you can keep online purchases on one credit card and through one intermediary.
Stay secure
When you do shop online, try to complete transactions at a computer on a private, secure Internet connection. Firewalls help, which you can set up with a wireless router or security software. Check URLs for "https" and a lock symbol at the front and ensure the rest of the URL originates from the site you're visiting. This means the site is encrypted and will protect your information.
Protect with passwords
Memorizing dozens of complicated passwords tests your brain, but can prevent a cyber crime nightmare. Use capitalization, numbers and symbols when possible to make cybercriminals scratch their heads.
Phones make calls, not sales
From a smart phone, a consumer can buy almost anything. Keep from doing this when possible. Encryptions and secure websites still operate on smart phones, but if you're on an unsecure public network you're putting yourself at risk.
Never save your password information on your phone. Otherwise when your phone is lost or stolen, a thief is a few keystrokes away from your private information. Use your phone as a last resort. Smart phones are great in emergencies, but shouldn't be your primary means of online shopping.
Use common sense
Be a skeptic when you're online. Even if you're just surfing the web, look out for suspicious sites. Be selective about which sites you give personal information. Most of all just act smart. If you have a gut feeling about a certain site—whether you're surfing on a computer or your smart phone—then bail. Your curiosity isn't worth letting a criminal who hides behind a screen take advantage of you.
Christian Losciale is a staff writer for Smart Military Money, a personal finance site dedicated to educating veterans, service members and their spouses.  Follow Christian and his work on Google+.
Photo courtesy of Jhaymesisviphotography
The following two tabs change content below.
Sean Bryant
Sean Bryant created OneSmartDollar.com in 2011 to help pass along his knowledge of finance and economics to others. After graduating from the University of Iowa with a degree in economics he worked as a construction superintendent before jumping into the world of finance. Sean has worked on the trade desk for a commodities brokerage firm, he was a project manager for an investment research company and was a CDO analyst at a big bank. That being said he brings a good understanding of the finance field to the One Smart Dollar community. When not working Sean and he wife are avid world travelers. He enjoys spending time with his daughter Colette and dog Charlie.
Latest posts by Sean Bryant (see all)