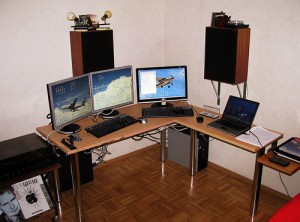 Because of the advancement in technology over the years it has become possible for many workers to do their jobs from home. Whether you plan to work from home full time or just part time, you need to set up your office properly. Without the right setup, you might find it hard to get your work done. I know from experience that it can be a major adjustment to work from home, but a proper home office can make a huge difference in your productivity.
Five Tips for Setting Up your Home Office
Location
If your home office will become your primary place of work, you don't want to set this up in a spare bedroom you plan to use for company or near distractions. You need a door that closes or at least a way to separate your office from the rest of the house. Choosing the right location for your office makes a huge difference and you want to consider the possibilities before making your final decision.
A dedicated room used only as your office is best, but if this isn't possible, setting your office up in a low traffic area of the home can make it easier to concentrate. You can even get a partition, if necessary, to block out distractions and separate your work area from your home.
Furniture
Choosing the right furniture will also make a difference. Executive leather chairs for the office can make it very comfortable, while reminding you that you're there to work. The right desk will also help and make sure it's large enough to accommodate your computer and everything else you need. Depending on the work you do, a bookshelf might be necessary. This allows you to store reference material close by.
Phone Line
With cell phones taking over, you might not need a second phone line, but a landline can help in some cases. If you use your cell phone for personal calls, you may want a dedicated landline or a second cell phone for your office. This helps separate personal from business. You can actually turn off your personal phone and let your family know to call your business line only in the event of an emergency.
Lighting
One of the major issues many go through when adjusting to working from home is a lack of energy. Corporate offices use specific types of light to help keep workers energized. If you work at your computer most of the day, you will need to set your office up with proper lighting to take some of the strain off your eyes. Natural light is always best and choosing an area with a window will help, but when it's not possible, you can use lamps with different types of light bulbs to create the best environment for you.
Organization
Whether you allow your home to become cluttered due to children or you keep it very organized, you need to make sure your office is immaculate shape. An organized office will allow your mind to focus. Use shelving and other storage solutions to help create the right environment without the clutter.
Working from home is a great way to save money on gas, stay home with the kids and make a living. If you work for yourself or you work for a company that has agreed to allow you to work from home, you need to make sure you set up your home office correctly. Consider all the possibilities before making decisions and make sure it fits with your taste without causing distractions.
The following two tabs change content below.
Sean Bryant
Sean Bryant created OneSmartDollar.com in 2011 to help pass along his knowledge of finance and economics to others. After graduating from the University of Iowa with a degree in economics he worked as a construction superintendent before jumping into the world of finance. Sean has worked on the trade desk for a commodities brokerage firm, he was a project manager for an investment research company and was a CDO analyst at a big bank. That being said he brings a good understanding of the finance field to the One Smart Dollar community. When not working Sean and he wife are avid world travelers. He enjoys spending time with his daughter Colette and dog Charlie.
Latest posts by Sean Bryant (see all)