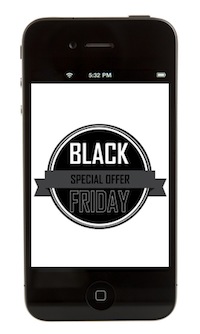 Black Friday is a day of delight for deal-seekers, giving you the chance to get your hands on some of the hottest gifts of the season without paying anywhere near the full price. The downside of this, however, is having to drag yourself out of bed far too early in the morning, fighting through a massive horde to reach your chosen item and actually making it out of the store in one piece. According to the National Retail Foundation, 89 million people shopped for Black Friday sales in 2012. If you want to successfully make it out on top, here are five apps designed to get you in and out of the retail fray, quickly and easily.
Store-Specific Apps
If you know which stores you want to attack for Black Friday, explore their options with mobile apps. Some stores, such as Macy's, have robust mobile apps that send you a text when items go on sale, allow you to scan items in the store to determine prices and even pay off your Macy's credit card bill that is amassing charges during the holiday sales event.
Shopping List
If you want to map out a multiple store battle plan, certain apps offer a shopping list feature that gives you a way to organize everything you want, even when you're dealing with several stores. Deal News has created a Black Friday app that aggregates all of the sales flyers from popular stores and syncs them to the Deal News sites. Both leaked Black Friday ads and official ads are available.
Nearby Coupons
Save even more on Black Friday deals by getting in-store coupons on your phone, based on the store you're in and nearby locations. Coupon Sherpa provides the technology through an iOS app that allows you to find local store coupons, as well as browse overall coupon selection.

Deal Sites
Fatwallet lists plenty of deals throughout the year, but Black Friday is really this site's time to shine. Its mobile app reflects this as well, with more than 100 stores featured on its compare function, a clean and easy user interface. The share feature allows you to pass on deals that you know your family would love. If you want to drop holiday hints, you also can shop directly through the app for participating stores. You can get a list of all the doorbusters or regular sale items, depending on your preferences too. Category search also is available.
Rewards Cards
Don't miss out on your rewards points when you're battling the crowds. CardStar provides a way for you to "virtualize" all of your rewards cards and store cards with the click of an app. Instead of letting cards fall out of your wallet as you battle for shopping supremacy, the cashier can scan your phone to obtain the card's barcode. Not only does this app make the entire shopping experience faster, it's a way to prevent your actual cards from being lost.
The following two tabs change content below.
Sean Bryant
Sean Bryant created OneSmartDollar.com in 2011 to help pass along his knowledge of finance and economics to others. After graduating from the University of Iowa with a degree in economics he worked as a construction superintendent before jumping into the world of finance. Sean has worked on the trade desk for a commodities brokerage firm, he was a project manager for an investment research company and was a CDO analyst at a big bank. That being said he brings a good understanding of the finance field to the One Smart Dollar community. When not working Sean and he wife are avid world travelers. He enjoys spending time with his daughter Colette and dog Charlie.
Latest posts by Sean Bryant (see all)