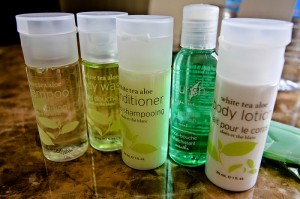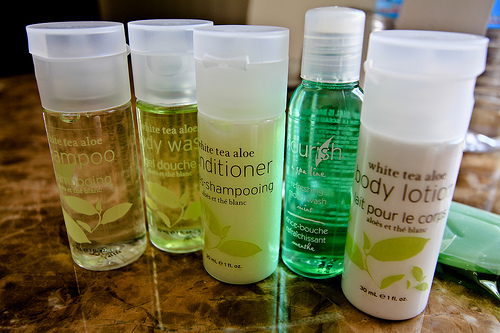 If you are like most travelers, you'll find any way possible to avoid checking a bag at the airport. Since 9/11, it has been virtually impossible to carry on some of the most basic toiletries, such as shaving cream or hair spray. Luckily, most hotel chains offer these items to their guests for free.
On top of not being able to carry a lot of toiletries on an airplane, I must admit that I love getting freebies. My wife likes to laugh at me every time we are at a hotel because I usually load my bag with the provided shampoo, conditioner, body wash and more. These items are great to have on hand if you are going camping and it will save you some cash compared to buying them at the store.
While some of the free items you can get from hotels might be pretty obvious, there are a few that you might not ever think to grab.
1. Shampoo – If you are not into using coupons when you shop then it can cost a lot of money to purchase shampoo for your family. I usually stick the hotel bottles in my bag each day because the service staff will refill them each time the clean the room.
2. Conditioner – The same thing applies to conditioner that does for shampoo.
3.  Snacks – If you are staying at a hotel that serves up free breakfasts to their guests (Hampton Inn, Embassy Suites, etc.) take a look at some of the snacks they offer.  You can grab a couple extra pieces of fruit, single serve boxes of cereal or a bagel. These will help to save you a little money because you won't need to stop for a snack in between meals.
4.  Slippers – My wife and I were staying at Hotel Atlantico in Madrid and they had complimentary slippers and robes for us to use during our stay. Before we left we discovered the slippers were for us to take when we left.
5.  Coffee – A lot of hotels include an in-room coffee pot. The bags of coffee provided usually only make a couple of cups, however, if you take a few of them home then you have a full pot at no cost.
6.  Tea – For the non-coffee drinker, hotels will usually provide a nice selection of tea bags. Earlier this year we were staying at a Westin Hotel in New Orleans and they had an endless supply in the lobby, so I made sure to grab a couple handfuls over the course of the weekend.
7.  Shaving Cream – Before our last vacation, I needed to get my wife a travel sized can of shaving cream. I was shocked to see that it was more expensive to buy the travel can than it would have been to purchase a full size can after I used coupons. Luckily, because of travel limits, most nicer hotels offer complimentary shaving cream. The only stipulation is that you can't be picky about the brand or that it probably won't be a gel cream.
8.  Sunscreen – One item that you may have never thought that you can get from your hotel is sunscreen. At $5 to $10 this can be a pretty expensive item to purchase.  If you are staying at an Omni Hotel, you will be able to ask for a free bottle.
9.  Garbage Bags – If you have a dog then you know the importance of having a full supply of dog waste bags on hand when you take them for a walk. Taking the small garbage can liners from the hotel is a great way to make off with some free bags.
10.  Contact Solution – If you are staying at a nicer hotel such as Wyndham, then make sure you ask for a free bottle of contact solution. This will help to save you $2 to $3 compared to buying a travel bottle before you leave on your trip.
11.  Mouthwash – No matter what hotel you are staying at, having fresh breath has never been so cheap. They will either have free mouthwash in the bathroom when you arrive or you can request one from the front desk.
While some people might think it's abusive to take these items, you need to remember that hotels offer them for a reason. They want to make your stay more enjoyable without needing to worry about the small stuff.
Is there anything else that you have been able to get for free from a hotel stay?
The following two tabs change content below.
Sean Bryant
Sean Bryant created OneSmartDollar.com in 2011 to help pass along his knowledge of finance and economics to others. After graduating from the University of Iowa with a degree in economics he worked as a construction superintendent before jumping into the world of finance. Sean has worked on the trade desk for a commodities brokerage firm, he was a project manager for an investment research company and was a CDO analyst at a big bank. That being said he brings a good understanding of the finance field to the One Smart Dollar community. When not working Sean and he wife are avid world travelers. He enjoys spending time with his daughter Colette and dog Charlie.
Latest posts by Sean Bryant (see all)