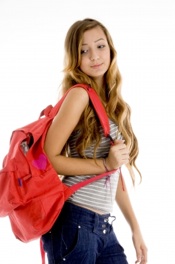 Much of the time those who are studying complain about being a "poor college student."   There is no reason to live this way.  With so many jobs available, especially to those willing to work odd hours, college students can make the resolve not to live broke.
Work Study
Ideally you could land a work study job.  These are offered by the college and not only will you earn money, but some of your hourly wages will go toward paying your tuition.  If you can qualify for the program, this is a great option.  The only downside is you are limited on your hours.
Barista
Love people?  Head to a nearby coffee shop and see if they need help serving coffee.  You will be able to interact with a variety of people as they pass through, and during the slow times you can get a little studying done.  Bonus: free coffee for those late night study sessions.
Food Service
Many people do not like the food served on campus.  However, working for the food service (big universities have more than just the cafeteria in the dorms) you will have a flexible schedule.  The best part of this job is that you can take home leftovers and will barely have to pay for food throughout college.
Other Campus Departments
Colleges and universities hire hundreds of students each year.  There are many different jobs that will fit many different personalities.  From working in the library, to student help desk, to tour guide, to maintenance, there is a form of student employment that will work for everyone.  These jobs are always the most flexible in their hours.
Fast Food
There is nothing wrong with working fast food.  As a part time job, you can often earn more money at these establishments than you can at many other jobs.  They will help you build a work ethic, and while you don't want to eat too much junk food, a snack every now and then is not a problem.
Wait Staff/Bartending
If you love interacting with people check out becoming a waiter.  The tips are great, the job is relatively easy, and you can socialize while working.  While a bartender's hours tend to run late, the tips are excellent and more than make up for it.
Internship
You are learning skills in college that you will hopefully use throughout your life.  Find a company that offers a paid summer internship.  You won't make nearly as much as a regular employee, but the perks of the internship (getting offered a job when you graduate) far outweigh any other benefit you could get elsewhere.
Residence Advisor
Working in the dorms has its perks.  You can keep your social calendar full, and while you probably won't earn an actual wage, you will earn free room and board.  That is worth quite a bit in the long run.  The job is fairly easy, unless you have some unruly residents.
Teaching Assistant
Teacher's assistants can sometimes get paid for their work, or they can earn credits.  Either way they are getting a great deal.  The job only requires a few hours per week, and often allows you to study while waiting for students to come ask for your help.
Tutor
As an upperclassman you have been through these classes already.  You have learned the material and then some.  You can get paid to help others learn what you have learned.  In the meantime you will be able to keep your skills up- to-date.
Final Thought
There are hundreds, if not thousands, of jobs out there.  These are just 10 of the best jobs for college students.  The student can use his or her skills, work hours when they would otherwise be idle, and make some money that can be applied to their tuition so that they will have less debt when they graduate.  If you are a student, or going to be one soon, research which job you would like, and then pursue it as aggressively as you would a scholarship.
What job did you have when you were in college?
The following two tabs change content below.
Scott Sery
Scott Sery is a native to Billings, Montana. Within an hour in nearly any direction he can be found fishing, hunting, backpacking, caving, and rock or ice climbing. With an extensive knowledge of the finance and insurance world, Scott loves to write personal finance articles. When not talking money, he enjoys passing on his knowledge of the back country, or how to live sustainably. You can learn more about Scott on his website
Sery Content Development
Latest posts by Scott Sery (see all)